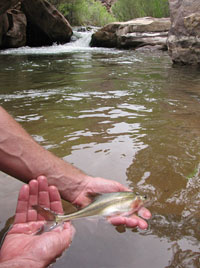 Shinumo Creek Translocation
The third translocation of humpback chub to Shinumo Creek occurred on June 21, one week prior to the Havasu translocation. A total of 902 humpback chub have been released in Shinumo Creek to date.
Data are currently being analyzed and they provide early insights into the success of the translocations to date. Humpback chub released in 2009 and 2010 have been recaptured by fisheries crews during monitoring work in Shinumo Creek.
Data on each fish, including size and weight, is collected prior to releasing the fish back into the stream, and studies are underway on the stream ecology of Shinumo Creek.