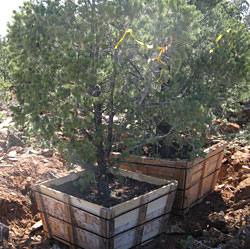 More than one hundred large trees were saved prior to construction using heavy equipment to extricate them and by building boxes around their root balls. Most of these trees are stored on site, where they are cared for and monitored until it is time to replant them.
Once construction is completed and these trees are replanted, they will give the landscape a natural appearance and help speed the recovery of the surrounding vegetative community.
Crews, with the help of volunteers, collected seeds from 50 species of native plants and salvaged more than 5000 plants prior to the start of construction.
Read more...