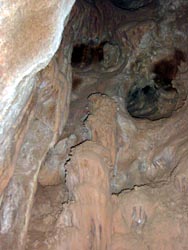 Cave resources include unique cave formations or "speleothems," mummified remains of extinct Ice Age fauna, archeological remains (including split-twig figurines), and unique biological systems. Many caves also play a major role in regional hydrology, as evidenced by incredible waterfalls and substantial streams emerging from places like Vaseys Paradise, Cheyava Falls, and Roaring, Thunder, and Tapeats springs.
Under the current park policy, All caves (with the exception of the Cave of the Domes on Horseshoe Mesa) are currently closed to visitation, except for research purposes. Please contact
Deanna Greco
, Physical Science Program Manager, for additional information (928) 638-7817.