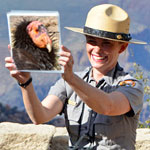 "Condor Talk"
What highly endangered bird with a 9-foot (2.7-m) wingspan is often spotted at Grand Canyon? The
California condor !
Learn about these majestic birds and their reintroduction to Grand Canyon during a ranger talk on the canyon's rim.
South Rim - Summer 2015 (May 21 through Sept. 7, 2015) 4:30 p.m. daily.
Lookout Studio - Parking is limited. Ride the Village Loop shuttle bus.
North Rim - Ranger programs will resume on May 15, 2015
Note: condor programs are not scheduled during the winter and spring months.

---