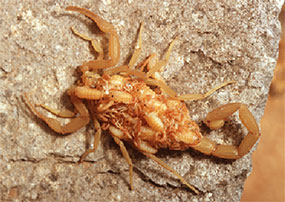 © 1978 Paul Berquist ASDM Digital Library
Piggyback Ride

Given common misunderstandings, you might be amazed to learn scorpion life begins with a piggyback ride! A female scorpion gives birth to live young. She will scoop as many as 30 babies onto her back and carry her young for up to 3 weeks. The first time the babies shed their exoskeletons, they leave the safety of their mother's care. On their own, young scorpions struggle to survive.

There are many desert creatures that prey on these growing arthropods. Bats, tarantulas, birds (especially owls), mice, lizards, and more consider scorpions to be a meal.

The light tan coloring of the bark scorpion acts as camouflage, however, against rocks, bark, and leaf litter.