"We are the department of all America. We represent the people of this country from Yosemite National Park and the Arctic National Wildlife Refuge to the Canyons of the Ancients National Monument, Samoa and Guam, and the Virgin Islands. As the Department of America, our ranks should reflect the face of the American public we serve." - Secretary of the Interior, Ken Salazar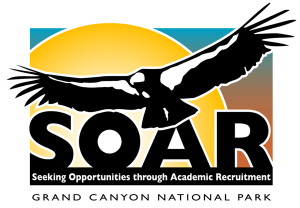 The SOAR Program is designed to introduce students of diverse backgrounds to careers in the National Park Service. The program represents a commitment to increase staff diversity at Grand Canyon National Park.
Each student employee will work closely with a staff mentor from their division of interest, as well as learn the broader functions of the National Park Service.
Program Description
The SOAR Program gives students a "jump start" in their chosen career fields by providing valuable, paid, work experience while they are still in school. After completion of their academic and work requirements, students may be eligible for permanent employment.
The SOAR Program consists of the following elements to assist selected candidates during their summer employment:
Orientation to Grand Canyon National Park and the National Park Service
Mentoring Program
Team/Relationship Building
Exploration of the Park and other interests/work assignments
Potential Opportunities
Interpretive Park Ranger
Maintenance Worker
Administrative Support
Fire Effects Monitor
Fire Ecology and Fuels Management
Engine Crew Member
Cultural Resources Technician
Management Support - Superintendent's Office
Concession Office Automation Assistant
Program Requirements
Students are eligible for the SOAR Program if they are:
Enrolled or accepted for enrollment as a degree seeking student (diploma, certificate, etc) in an accredited institution; and
At least the minimum age required by Federal, state or local laws and standards governing the employment of minors; and
Taking at least half-time academic, vocational or technical course load in an accredited high school, technical or vocational school, 2-year or 4-year college or university, graduate or professional school; and
Maintaining at least a 2.0 GPA on a 4.0 scale; and
A U.S. citizen or a national
Other Information
Positions will generally be May - August, 40 hours per week, and will generally be located on the South Rim of Grand Canyon National Park.
Depending on the level of education and work experience, and the position, students could earn between $9.74 and $17.18 per hour.
Housing at the South Rim is provided at a minimal cost, ranging from $125 - $250 per pay period (every two weeks).
How to Apply
2013 Positions have not yet been announced. (as of January 28, 2013)
Please return to this page or check the Grand Canyon National Park Job feed at:
https://www.usajobs.gov/JobSearch/Search/RSSFeed/432900
Questions? Contact the Diversity Program Coordinator, at 928-638-7375