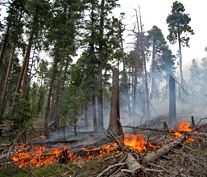 NPS Photo
Fire has the potential to change park landscapes more often than volcanoes, earthquakes or even floods. Such forces of change are completely natural and often necessary. Plants and animals have evolved with, and many depend on, the role fire plays in creating and maintaining a diversity of habitats.
Fire managers at Grand Canyon National Park follow a comprehensive fire plan that allows the restoration of fire regimes through a full range of management tools. Natural fire, prescribed fire, hazard fuel reduction, and fire effects monitoring help restore natural processes while providing for firefighter and public safety.
Grand Canyon National Park has one of the most active fire management programs in the National Park Service. Select a topic below to learn more.
---

Fire Ecology and Education
Learn about the history and importance of fire in shaping the plant communities above the Rims of Grand Canyon.

Community Wildfire Prevention & Safety

Is your home and property firesafe?
Here is information on how to reduce the risk of fire loss and damage.

Helicopter Training Academy
Work on your taskbooks at the Grand Canyon! We offer two-week sessions to federal and non-federal employees interested in completing their HECM, HELB, and HELM certifications.

Fire Management Planning
Check here for planning documents that guide our fire management operations.
Loading the player...

Ponderosa Pine: Living With Fire

The secret to the Ponderosa pine's success is how well it has adapted to fire. What can people who live in fire-prone areas learn from the tree's defenses?

Duration:

3 minutes, 45 seconds

Credit / Author:

Haley Bercot

Date created:

2009-05-09