Colorado River Management Plan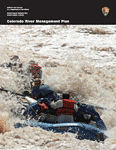 The 2006 Colorado River Management Plan (CRMP) (9.36MB PDF File)
is a visitor use management plan that specifies actions to conserve park resources and visitor experience while enhancing river running recreational opportunities on the Colorado River through Grand Canyon National Park.
This document also provides overall guidance for implementing the 2006 Colorado River Management Plan by:
Describing the management decisions and actions analyzed in the 2005 CRMP Final Environmental Impact Statement and mandated by the 2006 CRMP Record of Decision, and

Providing frameworks for how those decisions will be implemented.
Colorado River Management Plan Appendices

Appendix A (400kb PDF File)
The Record of Decision on the Final Environmental Impact Statement/Colorado River Management Plan for Grand Canyon National Park.

Appendix B (68.2kb PDF File)
This section illustrates a sample Recreational Launch Calendar by month. To view the current monthly launch calendars as they become available, visit this link.

Appendix C (1MB PDF File)
Current 2012 Commercial Operating Requirements

Original Version: Commercial Operating Requirements (from 2006)



Appendix D (PDF File)
Noncommercial River Trip Regulations
(This is the most recent version of the document)

Appendix E (5.49MB PDF File)
Hualapai Tribe Operational Standards for River Running Operations
between the Hualapai Tribe and the National Park Service.

Appendix H (239kb PDF File)
The Final Programmatic Agreement (March 2007) Among The National Park Service, Advisory Council On Historic Preservation, Arizona State Historic Preservation Officer, The Hualapai Tribe, The Navajo Nation, The Havasupai Tribe, The Hopi Tribe, The Pueblo Of Zuni, The Kaibab Band Of Paiute Indians, The San Juan Southern Paiute Tribe, The Paiute Indian Tribe Of Utah, The Las Vegas Paiute Tribe, The Moapa Band Of Paiute Indians, And The Yavapai/Apache Nation Concerning Impacts From Implementation Of The Colorado River Management Plan For Grand Canyon National Park.
Colorado River Management Plan Final Environmental Impact Statement