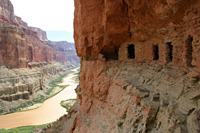 Archeological Resources

The oldest human artifacts found are nearly 12,000 years old and date to the Paleo-Indian period. There has been continuous use and occupation of the park since that time.
The park has recorded over 4,300 archeological resources with an intensive survey of over 5% of the park area.
The park's 11 Traditionally Associated Tribes and historic ethnic groups view management of archeological resources as preservation of their heritage.
Archeological remains from the following culture groups are found in Grand Canyon National Park: Paleo-Indian, Archaic, Basketmaker, Ancestral Puebloan (Kayenta and Virgin branches), Cohonina, Cerbat, Pai, Southern Paiute, Zuni, Hopi, Navajo, and Euro-American.
Learn more...
---