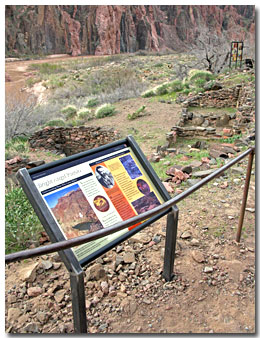 After several years of consultation, research, planning and design, in March of 2010, exhibits were installed at the bottom of the Grand Canyon to interpret the ancestral Puebloan site that was home to an extended family 900-1000 years ago.

This archeological site is located within the inner canyon at the mouth of Bright Angel Creek, directly adjacent to Phantom Ranch. The site is just above the Phantom Ranch boat beach and just west of the black bridge.
This joint effort incorporated many park divisions, as well as consultation with the different tribes affiliated with the park and this site in particular.
Click on one of the thumbnails to download a high resolution file (8 inches wide @ 300 dpi. 1.8 MB jpg) Then, to save the file to your computer, right-click on the large photo and select, "save picture as."