Wheeler Peak Summit Trail Closed

A small smoldering fire near the trail has caused the closure of the Wheeler Peak Summit Trail. park staff is observing the fire. Check back here to get an update whne the trail will open. Alpine Lakes Loop and Bristlecone Trail are open. More »
Road Work at Great Basin National Park

Road work will begin in Upper Lehman and Wheeler Peak Campgrounds. Campgrounds will be open but may be noisy and have large vehicles on the roads. The Scenic Drive is open with up to 15 min delays due to road work. Click more for details. Updated 9/9/14 More »
Travel Not Recommended - Wheeler Peak Scenic Drive Above 8,000 Feet

Snow and ice may make travel on Wheeler Peak Scenic Drive unsafe, travel is not recommended at this time. Warmer weather later in the week is expected and conditions may improve. Please check back. 9/29/2014
Snake Creek Road and Campsites Closed

The Snake Creek Road will be closed from the park boundary into the park to begin work on campsites, trails and restroom improvements. Work will continue until snow closes the project. Work will resume in Spring 2015.
Auto Touring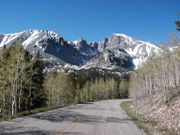 NPS Photo
Wheeler Peak Scenic Drive
The Wheeler Peak Scenic Drive, 12 miles, is paved, but steep and winding. The average grade is 8%. The Scenic Drive beyond Upper Lehman Creek Campground is closed to single vehicles in excess of 24 feet in length and trailers in excess of 24 feet in length. The road is open to Upper Lehman Campground year-round. The upper nine miles of the road are generally open June through October, weather depending.
Baker Creek Road
This is a highly maintained gravel road and is generally open May through November; weather depending.
Remote Park Roads
Strawberry, Snake, Lexington Arch roads are open year-round, but can be muddy or snowy in the winter and spring. High clearance vehicles are recommended for these rough, dirt roads.
Note: Please drive slowly; speeding is the most common cause of accidents on these roads!
Driving Conditions
Conditions in the park can be hazardous. Please obey posted speed limits. Use lower gears on long downhill sections to prevent overheated brakes. Use of seatbelts is required in both Nevada and the park. Please stop only at pullouts. Watch for pedestrians and wildlife (especially deer on the Scenic Drive and marmots on Baker Creek Road). Congestion in the visitor center parking areas can lead to accidents. Please use caution.
Did You Know?
Great Basin National Park is home to Lexington Arch, one of the largest limestone arches in the western United States. This six-story arch was created by the forces of weather working slowly over the span of centuries. This type of above ground limestone arch is rare.