Road Work at Great Basin National Park

The Scenic Drive is open with up to 15 min delays due to road work. Wheeler Peak Campground will be closed for the day on October 14th. Lower Lehman Campground will be closed for the day on October 15th. Click more for details. Updated 10/9/14 More »
Snake Creek Road and Campsites Closed

The Snake Creek Road will be closed from the park boundary into the park to begin work on campsites, trails and restroom improvements. Work will continue until snow closes the project. Work will resume in Spring 2015.
Maps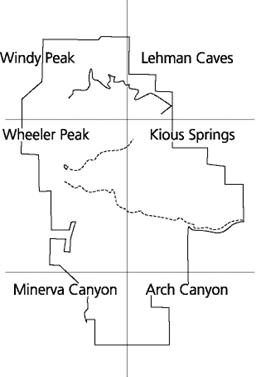 NPS
Topo Maps
Great Basin National Park is covered by six topo maps in the U.S. 7.5 minute series. The Wheeler Peak and Kious Basin maps cover much of the high-elevation backcountry. The Windy Peak map covers a number of the most popular trails and well-developed trails. The Lehman Caves map covers mostly low-elevation areas outside the park. The most remote, least-used backcountry areas are covered by the Minerva Canyon and Arch Canyon maps.
A single-sheet map covering all six topographic map areas at a scale of 1:48,000 is also available. Published by Earthwalk Press, this map is called "Hiking Map and Guide: Great Basin National Park."
These maps are sold at the Western National Parks Association's visitor center bookstores or purchase online through the USGS.
For more information contact the Western National Parks Association by phone at (775) 234-7528.

Did You Know?

Many of Great Basin National Park's bristlecone pines were growing at the time the Egyptians were building the pyramids. Not only are the trees themselves old, but the needles alone can be 25-40 yrs old!