Snake Creek Road and Campsites Closed

The Snake Creek Road will be closed from the park boundary into the park to begin work on campsites, trails and restroom improvements. Work will continue until snow closes the project. Work will resume in Spring 2015.
Astronomy Programs to Resume August 23rd

After a safety review Astronmy Programs will begin again on a trial basis on August 23rd. More »
Road Work at Great Basin National Park

Beginning July 8, 2014 and continuing through the end of August there will be road work at Great Basin National Park on paved roads throughout the park. Delays of 10 minutes or less may occur. Updated 8/12/2014 More »
Maps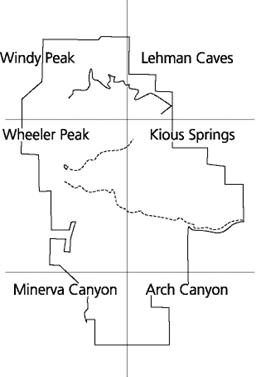 NPS
Topo Maps
Great Basin National Park is covered by six topo maps in the U.S. 7.5 minute series. The Wheeler Peak and Kious Basin maps cover much of the high-elevation backcountry. The Windy Peak map covers a number of the most popular trails and well-developed trails. The Lehman Caves map covers mostly low-elevation areas outside the park. The most remote, least-used backcountry areas are covered by the Minerva Canyon and Arch Canyon maps.
A single-sheet map covering all six topographic map areas at a scale of 1:48,000 is also available. Published by Earthwalk Press, this map is called "Hiking Map and Guide: Great Basin National Park."
These maps are sold at the Western National Parks Association's visitor center bookstores or purchase online through the USGS.
For more information contact the Western National Parks Association by phone at (775) 234-7528.

Did You Know?

According to the National Park Night Sky Team, Great Basin National Park is one of the best parks for viewing star-filled night skies!