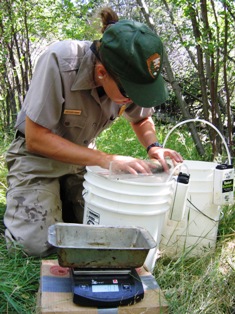 NPS PHOTO
About Seasonal Jobs
Great Basin National Park generally hires 20-30 seasonal employees each year. Most seasonal hiring takes place in the summer, but winter seasonal positions are available on a more limited basis. Seasonal positions are usually advertised in all divisions, including interpretation and education, visitor and resource protection, resource management, maintenance, and wildland fire.

For specific information about seasonal employment at Great Basin National Park, click here.
Pay: Most temporary seasonal positions require irregular hours of work, including weekends, holidays, and evenings. Entry-level grades for National Park Service temporary seasonal positions generally range from the GS-4 to GS-7. GS levels indicate the rate of pay for most federal government positions. For current salary information for these grades, check with any federal agency or the Office of Personnel Management in that geographic area where you desire employment.
Uniforms: Most temporary seasonal employees are required to wear the official Park Service uniform; specific requirements and ordering information are contained in the employment package forwarded to successful applicants. For positions requiring a uniform, an allowance is allotted which partially covers its cost.
Housing: Address specific questions about housing, area living conditions, and similar matters to the park or office where you desire employment. Seasonal employee housing may or may not be available
Equal employment opportunity: The National Park Service is an Equal Opportunity employer. Selection of positions will be made solely on the basic of merit, fitness, and qualifications, without regard to race, sex, color, creed, age, marital status, national origin, sexual orientation, non-disqualifying handicap conditions, or any other non-merit factors.