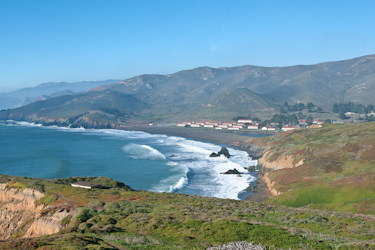 NPS/Kirke Wrench
Welcome to Fort Cronkhite!
Located in the Marin Headlands, Fort Cronkhite is a former World War II military post that stands at the edge of the Pacific Ocean. Fort Cronkhite today is one of the few examples of these World War II "mobilization posts" remaining in the country. The fort's barracks, mess halls, and other structures are preserved to tell the story of the soldiers who waited here for an enemy that never came. To learn more about the soldiers war-time experience at Fort Cronkhite, visit our Army Life at Fort Cronkhite page.
Today, Fort Cornkhite's buildings are today used as offices and housing for the National Park Service and its park partners. While there is no public access to any of the buildings, walking guides are available at the Marin Headlands Visitor Center.
To learn more about the park's historic World War II army post, visit the Fort Cronkhite history page.
Tips and Highlights

Look for the Marin Headlands Visitor Center's red spire at the intersection of Bunker and Field roads. Explore exhibits on the natural and historical resources of the Marin Headlands.
Enjoy the great outdoors with a picnic on dog-friendly Rodeo Beach.
Hike along the coastal trail to touch the 16-inch gun that oversaw the end of World War II at Battery Townsley.
Take a stroll around Rodeo Lagoon and view local birds that call Fort Cronkhite home.
Explore the miles of backcountry trails that meander through coastal hills, and observe birds, butterflies, and bobcats.
Volunteer with the National Park Service and share the area's renown cultural heritage and elegant natural beauty with visitors from around the world.
Fort Cronkhite is also home to many park partners, including the Marine Mammal Center, NatureBridge, the Golden Gate Raptor Observatory, and others.
Nature
Beaches and Basalt
Rodeo Beach at Fort Cronkhite is a great place to marvel at the pretty green and dark-red pebbles that come from pillow basalts and chert-rocks formed on the seafloor and scraped off on the Headlands by plate tectonics.
Public Transit
Check out Transit 511.org for Muni 76X service on Saturdays, Sundays, and holidays.
Driving Directions
For an interactive map, please visit the Golden Gate National Parks Conservancy's website.
From the North
• Take Hwy 101 southbound.
• Exit at second Sausalito exit, just before the Golden Gate Bridge.
• Bear right onto Alexander Avenue; proceed back under the freeway.
• Follow Alexander Avenue 0.2-miles; turn left onto Bunker Road.
From the South
• Take Hwy 101 northbound across the Golden Gate Bridge.
• Exit Alexander Avenue; bear right.
• Follow Alexander Avenue 0.2-miles; turn left onto Bunker Road.
Directions to Fort Cronkhite
• On Bunker Road, pass through one way Baker-BarryTunnel.
• Follow Bunker Road 3-miles and continue pass Rodeo Lagoon. Head toward the ocean and Fort Cronkhite will be on your right-hand side
Information
For more information, please contact:
Marin Headlands Visitor Center
Fort Barry, Building 948
Sausalito, CA 94965
(415) 331-1540