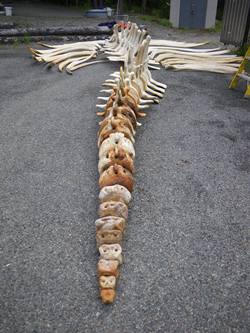 Preparing the bones
In July, 2010, the Park requested the services of well known Alaska Articulation Specialist, Lee Post. In order to prepare for future articulation, Glacier Bay needed a complete inventory of Snow's skeleton. As a result of her injuries and postmortum trauma, some of her bones were in great need of repair - many were chipped, broken, or even missing. Within two days of arrival, Lee conducted a complete inventory of the skeleton and created a detailed report that would later become an essential document for the articulation project. Check out Lee's work at: http://theboneman.com
Despite years of effort, many of Snow's bones could not be cleaned enough on site to satisfy the requirements for an outdoor exhibit in Glacier Bay. Every bone had to be oil free and odorless so as not to attract small rodents and/or large mammals. Many bones needed repair and several vertebrae were missing. In order to move forward with the project, the park realized that the final cleaning and articulation of a 45 1/2 foot humpback whale skeleton would require not only hiring an "outside" expert, but someone who could manage the project at Glacier Bay. In April, 2012, a two-year term position was created to oversee all aspects of contract management and education/outreach. Then, in September 2012, the ball started rolling on the project. Glacier Bay contracted with Whale Articulation Specialist, Dan DenDanto of Whales and Nails, located in Seal Cove, Maine, to prepare Snow's skeleton for an outdoor exhibit. Dan's knowledge of whale anatomy and his extensive experience in the field gave him the extraordinary ability to work on this unique and extremely challenging National Park Service Project. To learn more about Dan DenDanto and Whales and Nails, go to: www.whalesandnails.com.
In the end, the project would require a team of park staff, engineers, articulation specialists, artists, and builders a little over two years to complete the job.
To learn more about how the Whales and Nails team prepared the skeleton, go to: Articulation - Phase I.