In October, 2010 the Hoonah Indian Association (HIA) hosted a ceremony to bless two large red cedar logs. This cultural blessing was a way to thank the trees for their contribution to a significant project. Four feet in diameter and 40 feet long, the massive logs will be used to create a carved house screen, the first component of a replica Tlingit plank house to be constructed in Glacier Bay National Park. Part of a long range design plan since 1998, the Huna Tribal House will be constructed along the waterfront of Bartlett Cove, providing the Huna Tlingit the first permanent plank house in their ancestral homeland since their village was destroyed by an advancing glacier over 250 years ago.
The design is based on accounts and photographs from the historical and ethnographic records. These ingenious buildings had gabled roofs held up by four interior posts that supported two massive horizontal beams upon which the rest of the roofing members rested. The walls and floors were of thick, adze finished planks. Inside were square pits, about 25 feet to a side and about 4 feet deep, where daily life circulated around a central hearth. They traditionally housed extended families and a cluster of houses would comprise a clan's winter village. Multiple clans would reside together, and legends tell us that the principal pre-Little Ice Age village of the four Huna clans was located in what is now Bartlett Cove.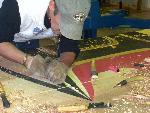 Huna Tribal House Photogalleries
Follow along and enjoy images and videos of this exciting project as it develops. New photos added regularly!
Watch as master carver Gordon Greenwald unveils the impressive carved interior house screen for the people of Hoonah and describes the various components and what they represent. 8 Minutes

Duration:

8 minutes, 8 seconds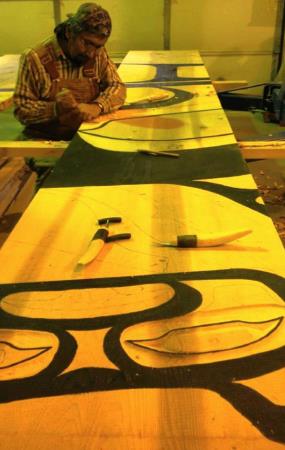 The houses were filled with the sacred objects and art that spoke of the clan's origins and histories. These objects consisted of carved and painted interior house posts and partition screens, exterior rain screens and totem poles, and a variety of household items. Glacier Bay National Park and HIA have initiated a project to create these components through a series of workshops in Hoonah. Cultural elements for the tribal house are currently being crafted in Hoonah by local native artists. In 2011, carvers Gordon Greenwald, Owen James, Herb Sheakley,and Louie White, Jr. completed an elaborately carved and painted house screen which will serve as the centerpiece of the house interior. The screen depicts the stories of the four Glacier Bay clans and commemorates their deep connection to their Glacier Bay homeland. Carvers also completed four highly ornamented cedar house posts for the interior. This year, the artisans are working on a spectacular wooden exterior house screen which depicts Raven and Eagle, the two principal crests of Tlingit clans.
The screen and house posts are currently on display in nearby Hoonah, but will eventually be incorporated into the Bartlett Cove tribal house. Once completed, the structure will serve as an interpretive center where visitors can learn about Tlingit culture and a venue where Tlingit communities and organizations can offer cultural workshops on topics such as Native art, woodworking, weaving, song and dance, healthy living, and more.