Overview of Historically Interpreted Sites at Fort Smith

---
First Fort (1817-1824) - more...

The first Fort Smith was established at the confluence of the Arkansas and Poteau Rivers in 1817 at a place named Belle Point. It was the highest navigable point on the Arkansas River at the time the site was chosen by the U.S. Army. The army abandoned the fort in 1824 and while used intermittently by transient troops, it was never maintained. Its exact location remained unknown until 1963, when archeologists uncovered the foundations visitors can see today.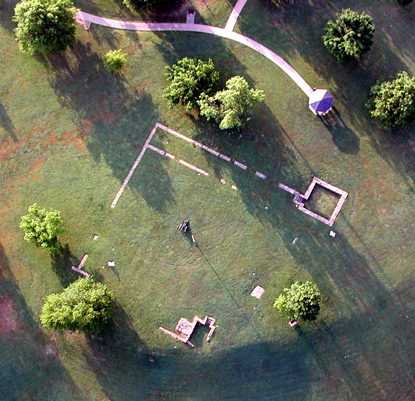 FOSM
---
Second Fort (1838-1871) - more...

In 1838 construction of a second fort was begun, this one built at a higher elevation and away from the river. Major buildings included two officer's quarters, a barracks, commissary, and quartermaster storehouse; all enclosed by a stone wall. Today visitors can see the Commissary Storehouse (the oldest building still standing in Fort Smith) and the former military barracks which was converted into the federal courthouse in 1872.

An outline of stones placed at ground level marks the perimeter wall's original location. Locations of other second fort buildings are designated by wayside panels and marked floor plans. Click here for an aerial view showing the design of the Second Fort.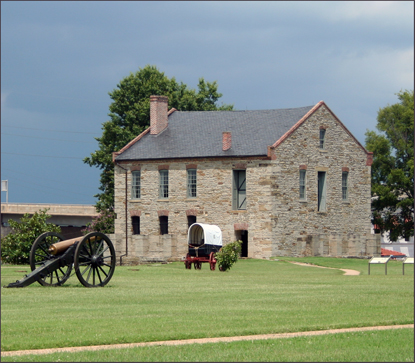 FOSM
---
Federal Court (1872-1896) - more...
When the military barracks was used as a courthouse, the basement was fashioned into a jail. The conditions in the first jail that the facility housed was nicknamed "Hell on the Border". In 1888 a new jail wing was constructed to remedy the deplorable conditions suffered by prisoners. The federal courthouse, which originally was a 1 1/2 story structure with full porches, was changed to reflect its current appearance in 1890.

A reproduction of the 1886 gallows stands on its original site and is a reminder of the chaotic social conditions that existed in Indian Territory and the Western Frontier during Judge Issac C. Parker's time.

FOSM


Postcards of Second Fort Smith

Several postcards show views of what the fort looked like before 1870. Read More

Postcards of Federal Court Era Buildings

Postcards of Fort Smith federal courthouses and jails Read More

Gallows

A reconstructed gallows stands on the site of the original structure. Read More