Federal Court Era Places (1872-1896)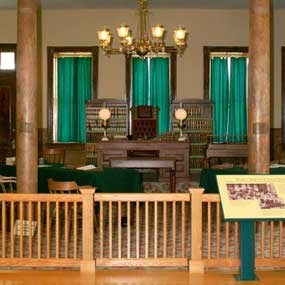 Today visitors come to Fort Smith to see the federal courthouse used by Judge Isaac C. Parker from 1875-1889. However, the building was originally the military barracks and not ideally suited for a courthouse. The courtroom was small and not lavishly furnished. The former mess halls in the basement were converted into two large jail cells, nicknamed "Hell on the Border."
If you would like an electronic copy of the Historic Furnishings Report: Fort Smith Courtroom please
contact us via e-mail
.


Last updated: December 4, 2017