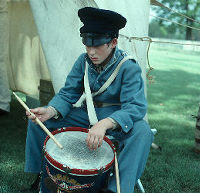 Music was very much a part of the soldiers' lives. Drums regulated their days and the two musicians, a drummer, and a fifer, assigned to each company were always available for martial airs. Singing was a popular amusement, particularly among the German soldiers, and at some posts the men organized singing societies. Sometimes a fiddler, banjo player, flutist, or bugler might be found in the unit to help liven the long evening.
Other forms of entertainment included dancing and theater. Formal balls were held by the officer corps, but occasionally the entire garrison turned out for a hop. A dragoon sergeant in one fort during the 1850s contended that even the roughest seemed to rise a little higher and to think better of themselves when they attended a formal ball opened to all personnel.
Enlisted men also occasionally put on their own dances which sometimes turned into drinking sprees. Probably, few if any women were present at these functions, since attendance by the fairer sex usually insured a higher standard of conduct. Even when ladies were in short supply, the men took things in stride and sometimes had to dance with each other. One officer at a remote pre Civil War post admitted that this was rather dull, but claimed it was better than being a wallflower.
Theater was also a popular amusement. Thespian societies flourished in garrison throughout the thirties, forties and fifties. Productions ranged from skits to drama and from classics to original attempts. One popular play of the time that may have been performed was "Box and Cox" - a one act play produced in London in 1847.
Many of the forts of the time had post libraries for the benefit of those soldiers who knew how to read. Others enjoyed hunting and of Fort Scott it was said that "everyone was hunting mad".
The most popular gathering place, however was the sutler store. The sutler store was a place where a soldier could relax, have a beer, and play a game of pool. Most sutler stores had billiard rooms, checkerboards, etc. Also during the 1840s, soldiers could buy beer and wine from the sutler, but nothing stronger. A soldier may have simply enjoyed browsing through the sutler's wares and purchasing items that he did not receive as part of his standard army ration.
The information for this section came from :The Old Army: A Portrait of the American Army in Peacetime, 1784-1898by Edward M. Coffman, copyright 1988 by Oxford University Press, Inc. Used by permision. Forty Miles A Day on Beans and Hay by Don Rickey, Jr.Copyright 1963, 1991 by the University of Oklahoma Press. Reprinted by permission. No further copying permitted. Soldiers at Play: Recreation and Pastimes of the Frontier Army by John P. Langellier and Cameron Laughlin.