News
NPS
News Releases
Stay on top of the latest developments at Flight 93 National Memorial by reading the recent media releases. Or see what's been accomplished by delving into the archives.

Press Kits
Need basic information concerning the story of Flight 93 and the national memorial? Explore what our Press Kits have to offer.

September 11 Observance Press Kit

General Press Kit

Capital Campaign News
The memorial is being built through a public-private partnership. The Flight 93 National Memorial Capital Campaign has recently made some exciting announcements as it seeks to raise $30 million from philanthropic individuals, corporations, and foundations to enable the construction of the Flight 93 National Memorial. Visit www.honorflight93.org for more information.


Did You Know?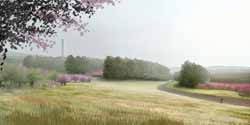 The Flight 93 National Memorial design was selected from over 1,000 entries from 48 states and 27 countries in an international design competition.