Sportsman's ORV driving limitations

Due to the breach at Old Inlet, the sportsman's driving area is reduced to approximately 1¼ miles of the beach west of the Wilderness Visitor Center. Required permits may be purchased at this visitor center when staffed, for use through 12/31/2013. More »
New Backcountry Camping procedures

Reservations for required permits must be obtained through Recreation.gov. Due to the breach at Old Inlet, access to both east and west wilderness camping zones must now be from Davis Park or access points west, and involve a 2½ to 10 mile hike. More »
For Your Safety: Use Caution In and Around the Water
Fire Island Beach Safety Tips

♥ Always swim at a lifeguarded beach
♥ Do not dive into shallow water
♥ Never swim alone
♥ Do not play ball or frisbee on the shoreline
♥ Check with lifeguards on beach and surf conditions
♥ Children should always swim with immediate adult supervision
♥ If you hear a whistle, look to see if the lifeguard is signaling you
♥ Avoid digging deep holes that can be hazardous to others
♥ Stay out of the emergency lane, the first twenty feet of beach below the foot of the dune, to allow emergency vehicles to pass safely
♥ Avoid alcohol prior to swimming
♥ Never sit or dig in front of the lifeguard tower
♥ Glass containers are prohibited on the guarded beaches, as they can break and present a hazard to others
♥ NEVER fake calls for HELP. However, don't be embarrassed to call for help.
♥ If you need help, do not panic. If you are unable to swim back to shore, call or wave for help.

The lifeguards are well-trained in water and beach safety.
Respect their presence and judgment, and never interfere with their work.

Swimming
Lifeguards are on duty during the summer months at Sailors Haven and Watch Hill and at some of the communities within the boundaries of Fire Island National Seashore, and at designated sections of beach within Robert Moses State Park and Smith Point County Park. Lifeguards adjust the size of the protected swim areas according to the day's conditions. Swimming is not permitted in fishing areas, marinas, or near boat traffic; surfing, fishing, and pets are not permitted within the designated swim beach area.
You may swim at most other locations, but be advised that swimming is at your own risk, and you should be respectful of other people's recreational rights. We strongly recommend that you always swim at a guarded beach, where properly trained lifeguards also watch for rip currents, lateral currents, large storm surf, undertow and other hazards in the water. You should never swim alone.
Learn More about Rip Currents
Learn More about Water Safety
You should be cautious when swimming at dawn or dusk and at night.

Sea creatures you may encounter include seasonal stinging jellyfish and sea lice, pinching crabs, and occasional schools of fish that can bite, like the bluefish. Shark sightings are very rare.


Wading or Walking
Use caution as you're walking along the shoreline or in the surf zone. You may wish to wear water shoes to protect your feet from broken shells or other submerged hazards in or near the water. You should stay clear of any marine mammals that are stranded on the beach; never touch them.
Lifeguards clean the guarded beach on a daily basis during the summer, but debris may wash up or become uncovered during the night.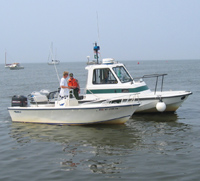 Boating
When in or on a boat, you should always wear a properly-fitted, U. S. Coast Guard-approved personal flotation device or PFD (life jacket). Children ages 12 and under are required by law to wear a PFD while boating, and we recommend that children wear a PFD while on the dock or along the water.
For your own safety and that of others, follow all boating regulations. Remember that no wake is allowed in the marinas.
Learn More about Boating Safety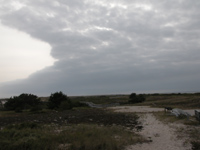 Storms
Watch for rapid changes in weather conditions; storms can travel quickly across the water. If there is lightning, get out of the water and avoid open areas, tall trees and metal poles. Stay inside a building if possible. If you are outdoors and no shelter is available, find a low ravine—but not a marsh or bog area—and crouch down to become a smaller target for lightning.
Learn More about Weather Safety
National Weather Service: Lightning Safety for Kids
Did You Know?

Seals occasionally bask on Fire Island beaches in winter. Enjoy watching them from a safe distance. Remember to give these wild mammals plenty of room to retreat if you encounter one during your winter hike! More...