More Park Facilities Reopen During May 2013

Watch Hill and Sailors Haven marinas open May 10. Limited ferry service from Sayville to Sailors Haven resumes May 13 and ferries from Patchogue to Watch Hill start on May 18. Remaining park facilities to reopen by May 25, 2013. More »
Times to Visit: Winter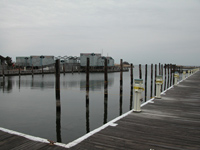 Considered Fire Island's off-season, winter is a quieter, peaceful time. Ferry service is minimal, but vehicle accesses via the Robert Moses Causeway Bridge and the Smith Point Bridge remain open.
Although at times extremely cold, if you're properly prepared you can experience a different beauty on Fire Island. The landscape can sometimes be covered in a blanket of white snow with barren branches encased in ice and glistening in the sun. Keep in mind, however, that very few public facilities are open on Fire Island during the winter, and those that are open usually keep shorter winter hours.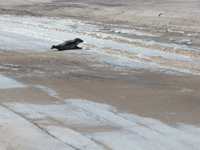 White-tailed deer sport their dull winter coats. Snowy owls are occasionally spotted near the beach. Sightings of seals and even the occasional whale have been reported. Seals occasionally bask on the winter beach.
Please do not get too close to seals on the beach or disturb them. However, you should report the stranding of any marine mammal or cold-stunned sea turtle to the nearest ranger or call

Do not approach any sick or injured animal.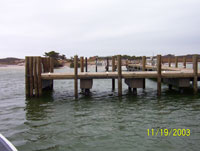 Occasionally, the bays on the south shore of Long Island freeze over.
Already limited winter ferry service to Fire Island communities may then be suspended.
When winds blow hard from the north, ice can pile high and wreak havoc on bayside structures and facilities like piers and docks.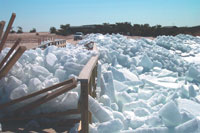 For your safety, most Fire Island National Seashore island-based facilities are closed during the winter.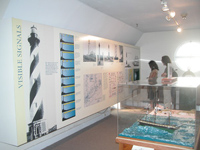 Facilities Open:
Did You Know?

The use of personal watercraft (PWCs or JetSkis) is restricted within the boundaries of Fire Island National Seashore. While not permitted at National Park Service facilities or near shorelines, PWCs may use the marked channels to access some of the Fire Island communities. More...