Sportsman's ORV driving limitations

Due to the breach at Old Inlet, the sportsman's driving area is reduced to approximately 1¼ miles of the beach west of the Wilderness Visitor Center. Required permits may be purchased at this visitor center when staffed, for use through 12/31/2013. More »
New Backcountry Camping procedures

Reservations for required permits must be obtained through Recreation.gov. Due to the breach at Old Inlet, access to both east and west wilderness camping zones must now be from Davis Park or access points west, and involve a 2½ to 10 mile hike. More »
Winter on Fire Island
Winter is a quieter, more peaceful time on Fire Island. The landscape is sometimes blanketed in soft, white snow with barren branches encased in ice glistening in the sun. If you're properly prepared, you can experience the stunning beauty of the seashore during the chilly season. Keep in mind, however, that very few public facilities are open on Fire Island during the winter, and those that are open usually keep shorter winter hours.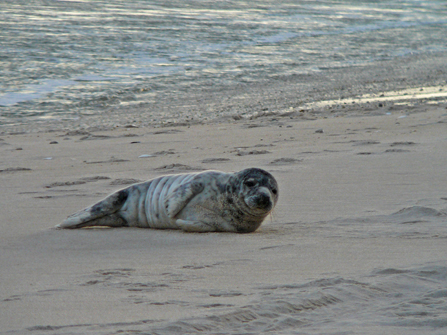 Winter is a time for wildlife on Fire Island. White-tailed deer sport their dull winter coats, snowy owls are occasionally spotted near the beach, and sightings of seals and are common.
Seals occasionally bask on the winter beach. Please do not get too close to seals on the beach or disturb them. Please report the stranding of any marine mammal or sea turtle to the nearest ranger, or call the Riverhead Foundation for Marine Research and Preservation hotline at 631-369-9829.
Facilities Open Year Round:
Did You Know?

As you cross the Great South Bay from Long Island to Fire Island, you may be able to catch a glimpse of the light atop the Fire Island Lighthouse, which appears to flash every 7½ seconds. More...