Pet Restrictions in Effect March 15 through Labor Day

Dogs/other pets (except for service animals) are not allowed in the wilderness or on any of Fire Island's federally owned oceanfront beaches from March 15 through Labor Day to help protect threatened and endangered beach-nesting shorebirds. More »
Backcountry Camping Permit and Access Procedures

Reservations for required permits must be obtained through www.recreation.gov. Due to the breach at Old Inlet, access to both east and west wilderness camping zones must now be from Watch Hill or points west, and involve a 1½ to 8 mile hike. More »
Attention Watch Hill Ferry Passengers

Due to channel conditions, delay or cancellation of ferry service between Patchogue and Watch Hill may occur. For updated ferry schedule information, please call 631-475-1665.
Fire Island National Seashore Campgrounds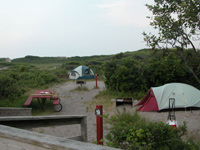 Watch Hill Family Campground
Phone: 631-567-6664 (campground message)
On-line Reservations
Accessible by private boat or ferry, Watch Hill is located directly across the Great South Bay from Patchogue, and the campground is a 1/4-mile walk from the ferry dock. Campground is within walking distance of visitor center, marina, general store, ocean beach (lifeguarded during summer months), showers and bathhouse, nature trails, and Otis Pike Fire Island High Dune Wilderness.

The Watch Hill campground has 26 tent sites and one group campsite. Most sites have a sandy base, so you'll need appropriately long tent stakes. There is one universally accessible site on a raised platform.
For fee information and a detailed campground map, visit Fire Island Concessions' web site at www.watchhillfi.com.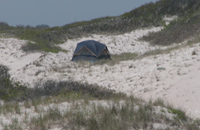 Wilderness Backcountry Camping
On-line Reservations are required.
Effective May 15, 2013, reservations for wilderness camping (backcountry camping) permits for the Otis Pike Fire Island High Dune Wilderness area must be obtained online at Recreation.gov for overnight stays. A $20 cost-recovery fee is charged for each reservation.
There are two camping zones within the Otis Pike Fire Island High Dune Wilderness, the "East" and "West" zones. Access to both East and West wilderness/backcountry camping zones will be through Watch Hill, since the breach at Old Inlet doesn't allow access to camping areas from the east. See Watch Hill Visitor Center hours (631-597-6455; mid-May to mid-October). Call 631-687-4780 for more information.
You must be prepared for ticks, mosquitoes and heat if you intend to camp during the summer. For more information, see Wilderness Camping.
---
Additional camping opportunities are available at Smith Point County Park. Learn more about Camping on Fire Island.

Campers Take the Ferry to Watch Hill

You may check in and drop off a copy of your wilderness camping permit at the Watch Hill Visitor Center, when staffed. Read More

Enjoy Ranger-guided Activities

A variety of interpretive programs are available year round to help you learn more about the natural and cultural resources in the Seashore. Read More

Be Prepared to Carry In Your Gear

Watch Hill Campground is a short hike from the ferry dock. Read More
Did You Know?

The Floyd family left to the National Park Service more than 3,000 books from their family's personal library. A number of books were written by descendants of William Floyd, who lived in the house at "Old Mastic." More...