William Floyd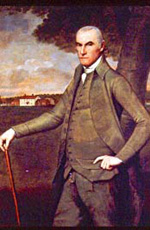 He Dared to Sign

William Floyd (December 17, 1734 - August 4, 1821) was a delegate from New York in the First Continental Congress in 1774. As a member of the Second Continental Congress, from 1775-1783, 41 year-old William Floyd was the first of the New York delegates to sign the Declaration of Independence on August 2, 1776.
Floyd also served as a member of the New York State Senate from 1777-1778 and from 1784-1788. In March 1789, Floyd was elected to the First United States Congress (1789-1791). He was a delegate to the New York State Constitutional Convention in 1801, and after moving to Westernville, New York in 1803, served again as a member of the New York State Senate in 1808.
William Floyd was an important plantation owner and leader during his time on Long Island. Today his home, the William Floyd Estate, is part of Fire Island National Seashore.

The Floyd Family

William Floyd was one of eight children born to Nicoll and Tabitha Floyd on the prosperous plantation at Mastic. As the oldest son, William inherited the plantation from his father in 1755 at the age of 20. A leader in business and society of his community, William also took up the colonial cause against Great Britain. He and his first wife Hannah Jones had three children by 1767. William became a colonel in the militia in 1773, and represented New York in the First Continental Congress in 1774.
In 1777, William, Hannah, and family left Long Island during the British occupation. Hannah died in 1781. The rest of the family returned to Mastic in 1783. In 1784, William married Joanna Strong, and and they had two daughters together. This portrait was painted around 1792. Note that the house is prominently featured in the background.
In 1803, at age 69, Floyd left Long Island with his family to establish a new home in Westernville, New York. He built a large frame house in 1803-1804 and lived in it until his death in 1821. William Floyd left the Mastic property to his son Nicoll Floyd, II.


William Floyd Estate Programs

Special tours and programs help you learn more about local history and the Floyd family. Read More

William Floyd Estate Hours

Grounds and historic house are open seasonally. Read More

William Floyd Estate

Old Mastic House is open during summer, but special grounds tours are offered throughout the year. Read More