William Floyd Estate: Old Mastic House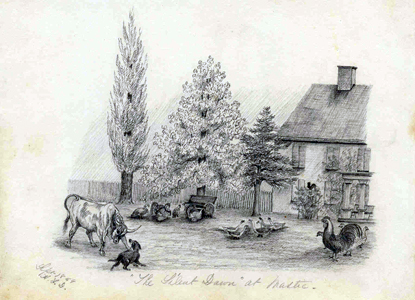 The House at Mastic
When Nicoll Floyd first arrived in Mastic in the 1720s, he built a two-story, shingled, wood framed house with three rooms on each floor. It was designed for expansion; and as his wealth and family grew—his 9th child was born in 1748—the house grew as well.
Between the 1750s and 1760s, Nicoll Floyd added two increments to the original construction. On the east side of the house, a kitchen, servants entry and a bedroom were added. To the west, he added a hall and another bedroom.
When William Floyd returned to Mastic after the Revolutionary War, he enlarged the house, making it suitable for entertaining national leaders, such as his political allies Thomas Jefferson and James Madison.
The West Wing, containing the Plantation Office, added at this time, was removed by 1843.
In 1857, John G. Floyd, Sr. restyled the front of the house, adding the large porch, the cornice, and other details in the Greek Revival style.
He also remodeled the East Wing from a kitchen into a bedroom suite—with the home's first bath—and built a new wing wing on the northeast side for a kitchen, laundry and larder sheds.
In 1898, John G. Floyd, Jr. added a wing on the northwest side to help accommodate the many guests visiting the family during their summer retreats from New York City.
The new northwest wing included a hallway, sitting room and bath.
In 1920s, Cornelia Floyd Nichols enlarged the northwest wing to accommodate a modern kitchen and expanded the Dining Room, and added a porch to the rear of the wing.