Camping
Everglades National Park offers wonderful camping opportunities in both the frontcountry and backcountry. While camping is available year-round, persons visiting during the wet season (June through November) should be aware of potentially difficult and uncomfortable conditions. Visitors should also be well-prepared as camping equipment is not available for rent or purchase in the park.
Frontcountry Camping: There are two drive-in campgrounds accessible from the Homestead entrance of the park: Long Pine Key Campground and Flamingo Campground. Both accommodate tents and RV's with a limited number of group sites. Please click the link above for more details on frontcountry camping.
Backcountry Camping: There are a number of ground sites, beach sites, and elevated camping platforms (chickees) available in various locations in the park. Most sites are accessible by canoe, kayak, or motorboat, though a few may be reached by hikers. A backcountry permit is required for all wilderness campsites and issued the day before or day of your trip. Please click on link above for more details on backcountry camping.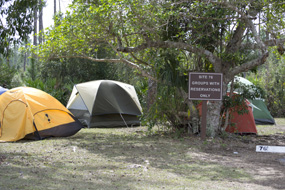 NPS Photo  J Roark
Group site at Long Pine Key Campground


Did You Know?

Everglades National Park ranges from sea level to 20 feet above sea level on an Indian-made shell mound located on the Gulf Coast portion of the Park.