Long Pine Key Campground Closed

Due to improvements to park roads and parking lots, the reopening of the Long Pine Key Campground will be delayed due to paving work. It will reopen mid-December. Those desiring to camp will be able to utilize the Flamingo Campground instead. More »
Camping
Everglades National Park offers wonderful camping opportunities in both the frontcountry and backcountry. While camping is available year-round, persons visiting during the wet season (June through November) should be aware of potentially difficult and uncomfortable conditions. Visitors should also be well-prepared as camping equipment is not available for rent or purchase in the park.
Frontcountry Camping: There are two drive-in campgrounds accessible from the Homestead entrance of the park: Long Pine Key Campground and Flamingo Campground. Both accommodate tents and RV's with a limited number of group sites. Please click the link above for more details on frontcountry camping.
Backcountry Camping: There are a number of ground sites, beach sites, and elevated camping platforms (chickees) available in various locations in the park. Most sites are accessible by canoe, kayak, or motorboat, though a few may be reached by hikers. A backcountry permit is required for all wilderness campsites and issued the day before or day of your trip. Please click on link above for more details on backcountry camping.
Long Pine Key Campground and Picnic Area improvements delay reopening.
Due to improvements to park roads and parking lots, the reopening of the Long Pine Key Campground will be delayed until mid-December due to paving work. In the interim, those desiring to camp will be able to utilize the Flamingo Campground instead. The Long Pine Key Picnic area will be closed for a short period sometime in December as well.
Current status of campground and picnic area will be posted at the entrance station or visitors can call with park information at 305-242-7700.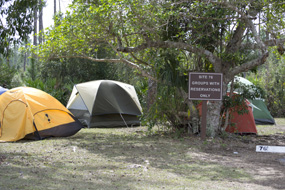 NPS Photo  J Roark
Group site at Long Pine Key Campground


Did You Know?

Over fifty-nine color varieties of the Liguus Tree Snail have been seen in and around the Everglades ecosystem. They graze on the algae and lichen that grows on smooth-barked trees. During the dry winter months, they are usually sealed to these trees to conserve moisture.