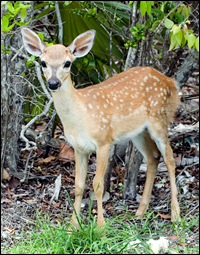 NPS photo
More than 40 species of mammals inhabit Everglades National Park. Many species commonly associated with drier habitats of forest and fields have adapted to the semi-aquatic environment that constitutes much of the Everglades. It is not uncommon to see white-tailed deer wading through the sawgrass prairie, or a bobcat foraging for food in the mangroves.

There is only one representative of the rabbit family frequently found in the park. The marsh rabbit is common in higher freshwater marshes, pinelands, and coastal prairies. It is not uncommon to see the marsh rabbit swimming, for it has adapted to its "wet world." Cottontails do occur in the park, but are very uncommon.

Raccoons and opossums are common creatures to most habitats. These creatures are omnivores and their diets vary, although the raccoon prefers turtle eggs and small aquatic animals. The opossum is the only marsupial (pouched) animal in the Everglades.

The gray fox is most frequently seen near hardwood hammocks. It is the only fox that can climb trees, especially leaning trees. The gray fox likes bushes and makes its den in the ground under roots and in tree hollows.

Streamlined river otters are commonly observed in the spring at the Anhinga Trail and Shark Valley. They are long, shiny, brown, seal-like animals that are often called the playboys of the 'glades. Their webbed back feet allow them to swim quickly through the water and they are typically seen feeding on turtles, fish, and an occasional baby gator.

White-tailed deer are the same species as those found throughout the eastern United States, but are smaller because they do not need an extra layer of fat to protect them from the winter cold. Everglades deer bed in hammocks when they are not feeding in the open sawgrass. Fawns are born in the spring months and are white-spotted for camouflage.
All plants and animals in Everglades National Park are protected by law. For your own safety, as well as the safety of the animals, please do not feed or harass any wildlife.