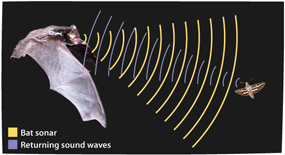 Graphic courtesy of ASU Ask a Biologist
www.askabiologist.asu.edu/echolocation
Bats use echolocation to navigate and find food in the dark. Echolocation is the use of sound waves and echoes to determine where objects are in space. Bats send out sound waves from their mouth or nose. When the sound waves hit an object, they produce echoes. The echoes bounce off the objects and return to the bats ears. The bats listen to the echoes to figure out where the object is, how big it is, and its shape. Using echolocation, bats can detect objects as thin as a human hair in complete darkness.
The sounds that bats emit are called ultrasound. Also known as ultrasonic sound, ultrasound is an oscillating sound pressure wave with a frequency greater than the upper limit of the human hearing range. Frequency, sometimes referred to as pitch, is the number of times per second that a sound pressure wave repeats itself. The units of frequency, or pitch, are called hertz (Hz). Humans with normal hearing can hear sounds from about 20 to 20,000 Hz, although we lose the highest frequencies as we age. Frequencies above 20,000 Hz are known as ultrasound. A dog tilting its head to listen to some seemingly imaginary sound is tuning into ultrasonic frequencies as high as 45,000 Hz. Bats can hear at among the highest frequencies of any mammal, as high as 120,000 Hz. Bats emit and receive ultrasonic sound waves for echolocation as sonar, in order to locate and identify objects without the benefit of light. By emitting ultrasounds into the environment and listening to the echoes that return, bats can navigate through total darkness while they simultaneously forage for food. Echolocation allows bats to occupy a nighttime niche that offers many insects for food, less competition for those insects from other species, and fewer species preying on themselves as a food source. Bats also use ultrasound to communicate with each other.