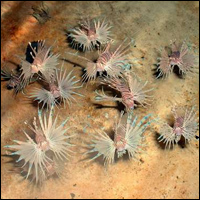 Image Courtesy of the USGS
The lionfish is a venomous predatory fish native to the Indo-Pacific waters that was introduced into Atlantic waters as early as the 1980s. Lionfish have the potential to impact the marine ecosystems of south Florida. Preliminary evidence suggests that the proliferation of lionfish may diminish native species of commercial, recreational and ecological importance. In addition, lionfish stings-though rare-are painful and occasionally result in serious injury.
The invasion of the lionfish is unprecedented, as it is currently the only known invasive marine fish recognized to have established itself throughout the Caribbean and the coastal waters of the southeastern United States. Management and control may require novel approaches, close coordination across jurisdictional boundaries, and assistance from the general public.