Hydrologic Monitoring Program
Everglades National Park protects a portion of the largest freshwater marsh in the United States, the Greater Everglades. A range of terrestrial, estuarine, and marine habitats simultaneously converge amidst a blend of temperate and subtropical climates to create the unique hydrologic conditions that exist in the Everglades. Water quantity and quality are critical to the health of the ecosystems that support the myriad plant and animal species inhabiting the park. However, a long history of water management in support of agricultural and urban development in south Florida has caused serious and continuing degradation of the Everglades ecosystem, prompting Congress to authorize the Comprehensive Everglades Restoration Plan (CERP) in 2000.
The goal of CERP is to improve the future quality of the natural and human systems in south Florida. Specifically, the objectives are to "restore, preserve, and protect the South Florida ecosystem while providing for other water-related needs of the region, including water supply and flood protection." Restoration of the natural systems will be considered successful once analysis of numerous ecological indicators determines that the ecosystem is behaving as a wild Everglades system rather than as a set of managed and disconnected wetlands. This restoration is all the more important in the face of climate change and sea-level rise. Providing a greater flow of freshwater south through the Everglades will serve to reduce the impact of salt water intrusion into the natural system and into the aquifers that serve the municipal water supply of the region.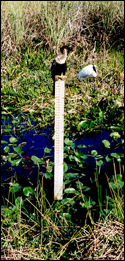 NPS photo
Successful restoration of the Everglades ecosystem requires the appropriate interaction between the quantity, quality, timing, and distribution of water. Park hydrologists monitor the condition of freshwater, brackish water, and salt water resources in the Everglades through an extensive network of hydrologic monitoring sites and stations. Collected data are analyzed to better understand the movement and condition of surface and groundwater resources. In addition, biologists and ecologists monitor and evaluate biological, chemical, and environmental factors that affect water quality, including contamination and pollution produced by human activity and by natural processes.
Hydrologists began monitoring precipitation in the park in 1949 and later added to the network by installing stations to monitor water levels in central Shark Slough in 1952. Since then, the network has expanded to 63 stations that currently monitor water temperature, water level, and precipitation on an hourly basis. Data collected through this network are transferred in near real-time, electronically archived, and shared over the internet to users worldwide.
"Here are no lofty peaks seeking the sky, no mighty glaciers or rushing streams wearing away the uplifted land. Here is land, tranquil in its quiet beauty, serving not as the source of water, but as the last receiver of it. To its natural abundance we owe the spectacular plant and animal life that distinguishes this place from all others in the country."
President Harry S. Truman, address at the Dedication of Everglades National Park, December 6, 1947
---