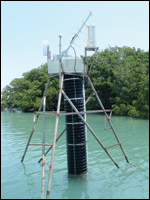 NPS photo by Steven Tennis
Approximately 1,625 square kilometers of Florida Bay are located within Everglades National Park and protected by the National Park Service, while the remainder lies within the Florida Keys National Marine Sanctuary and falls under the jurisdiction of the National Oceanic and Atmospheric Association. In order to preserve and protect Florida Bay, managers at Everglades National Park needed to improve their understanding of how the hydrologic system affects the ecosystem. To that end, in 1988 the National Park Service installed hydrologic monitoring stations in the bay and in the upstream freshwater marshes of the park. Collected data, including conductivity (used to calculate salinity), water temperature, water level, and rainfall measurements, are transferred in near real-time and electronically archived. The monitoring network was expanded to its current size of 17 stations in 1995.
The report provides a summary and analysis of collected data. The technical analysis supports National Park Service efforts toward understanding the physical coastal environment of Everglades National Park. This knowledge enhances the ability of the Service to meets its responsibility for preserving our nation's natural and cultural resources while engaging in ecosystem restoration efforts in south Florida. The results establish the spatial and temporal variability in the coastal environment, providing guidelines for detecting change and assessing the effectiveness of resource management projects in meeting the park's long-term objectives.