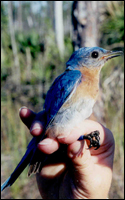 Initial monitoring of the reintroduced bluebird population indicated the successful establishment of bluebirds in Everglades National Park. Overall, 57 percent of the released adult bluebirds established a territory, and reintroduced individuals nested and successfully raised young, which subsequently bred successfully. At the end of the 2003 breeding season, the reintroduced Eastern Bluebird population consisted of 39 adults and 18 juveniles. Although the reintroduction resulted in the reestablishment of Eastern Bluebirds into Everglades National Park, the population was small and remained at risk of extirpation. Continued monitoring was deemed necessary to evaluate the success of the reintroduction.
Additional monitoring during 2005-09 determined that the population growth of bluebirds did not increase as expected. Population levels declined to about 30 breeding individuals and bluebirds remained at risk of extirpation in the park. Explanations for the lack of population growth include poor reproduction in response to the lack of available nesting sites, increased predation, and high mortality due to collisions with automobiles along roads.
Studies are needed to identify what factors are limiting bluebird populations in Everglades National Park so that management actions can be crafted for this species. Fire is the most important habitat management tool in the pine rocklands and its effects on bluebird habitat quality are not clearly understood. Prior to urban development in south Florida, suitable bluebird habitat was partly the result of regular naturally caused wildfires. Fire suppression during much of the past century has led to a buildup of vegetative undergrowth that has degraded the habitat. Since the realization in recent years of the importance of fire in maintaining a healthy ecosystem, fire is now used as a tool in the restoration of the Everglades ecosystem.