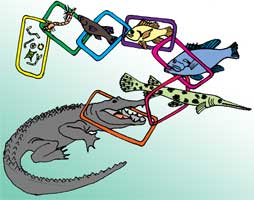 Many aquatic insects, snails, and others, eat periphyton.
Here is another example of a chain of animals and plants that form the food chain!
These animals are, in turn, eaten by larger predators such as fish, which are then eaten by turtles, snakes, birds, or even alligators.
Each animal then becomes part of the bigger picture, or the Everglades food web. A food web, is a bigger connection of many many interesting food chains.