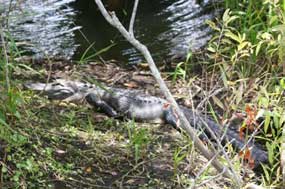 Alligators have a U-shaped snout and when their mouths are closed, the only teeth you might see are the ones pointed down.
Now, I want you to take a good look at that gator. Close your eyes and without peeking try to remember what color its skin is.
Did you get it right? Alligators have dark gray to black skin, never green. Many people think an alligator has green skin, but as you can see, myth is not true.
The darker color is helpful to that alligator when it tries to camouflage, or blend into its surroundings. The skin color also helps it absorb heat from the sun (remember, it needs this because it is cold blooded).
Think about this, if you were standing in the sun which shirt would be hotter... a navy (dark blue) or white t-shirt? That's right, it would be the navy blue shirt.
Lastly, where would you expect to find an alligator, in freshwater or saltwater?
The answer is freshwater!
These tips will help us identify an alligator from a crocodile.