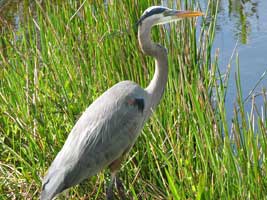 Let's now compare your measurements with the Everglades' very own, Great Blue Heron.
The Great Blue Heron is a very tall, wading bird. If this bird were to stand up straight and extend its neck as far as possible, it would probably be about 4 feet tall.
So how big do you think its wingspan is? Is it also 4 feet, like ours would be?
Well, believe it or not, the Great Blue Heron has a much greater wingspan than its height! On average, this bird's wingspan measures about 6 feet in length. That's almost 2 feet longer than its height.
This is really useful for the heron when it wants to fly. Birds benefit from having great big wingspans and hollow bones. It makes it much easier to fly great distances.