2014 Compendium now available

The 2014 park compendium is now available via the link below. This includes new prohibitions on unmanned aircraft systems (UAS) within national park units. More »
Cave permits now available for selected park caves

FREE mandatory cave permits are now available to visit specific caves in El Malpais. Permits can be obtained at the Northwest New Mexico Visitor Center at I-40/Exit 85 or at the El Malpais Information Center on NM Highway 53. More »
Getting Around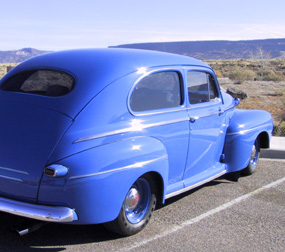 NPS photo by Rick Best
Exploring the region by vehicle can be done on paved highways or rugged backcountry dirt roads.

Travelers leaving the pavement are advised to get up-to-date road information and weather reports from a visitor center before heading out.
The El Calderon Trailhead road and Sandstone Bluffs road are generally passable to all vehicles. Four-wheel-drive and high clearance are recommended for other park backcountry roads.
Exploring By Car:
Highway 53 provides access to:
Zuni Canyon Road (USDA Forest Service)
Zuni-Acoma Trailhead
Bonita Canyon (USDA Forest Service)
El Calderon Area Trailhead
El Malpais Information Center
Bandera Volcano and Ice Cave
County Road 42 Chain of Craters north entrance
Highway 117 provides access to:
El Malpais Ranger Station (BLM)
Sandstone Bluffs
Acoma-Zuni Trailhead
La Ventana Arch (BLM)
South Narrows picnic area (BLM)
Lava Falls Trailhead
County Road 42 Chain of Craters south entrance
County Road 42 is the "Chain of Craters Backcountry Byway" and travels along the western boundary of the park. It provides access to the Big Tubes area and a segment of the Continental Divide National Scenic Trail. This is a lightly maintained road that can become impassable after heavy rain or snow. Get a road report and travel in a four wheel drive high clearance vehicle if using this route.
Did You Know?

Two distinct kinds of lava can be found in the varied flows of El Malpais. Lava is known by names from the Hawaiian Islands. Aa lava is clumpy and forms numerous irregular chunks, while pahoehoe lava cools to form smooth surfaces often covered with ropy textures. More...