Cave permits now available for selected park caves

FREE mandatory cave permits are now available to visit specific caves in El Malpais. Permits can be obtained at the Northwest New Mexico Visitor Center at I-40/Exit 85 or at the El Malpais Information Center on NM Highway 53. More »
Accessibility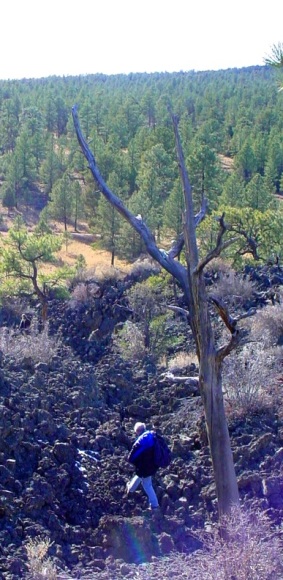 NPS Photo
Fully Accessible Facilities

The Northwest New Mexico Visitor Center has universal design features: accessible parking spaces, ramped sidewalks and walkways, accessible picnic tables, automatic doors, and accessible restrooms. The theater features captioning for videos and assistive listening equipment.

The El Malpais Information Center features accessible parking, paved walkway, and accessible restrooms.

The BLM Ranger Station features accessible parking, paved walkways, and accessible restrooms.

Activities

Scenic driving will take visitors to good views of many features in the park. The parking areas at Lava Falls on Highway 117 and the Zuni-Acoma Trail on Highway 53 are accessible. Other trailheads have gravel or dirt parking areas and are accessible with assistance. Trails in the area are not accessible due to the extremely rugged nature of the terrain.
Did You Know?

When people say that El Malpais lava country looks like a "moonscape" they aren't far from the truth. Much of the moon is covered with basalt lava flows which form the "maria" or lunar seas. Astronauts trained on lava flows in preparation for walking on the moon. More...