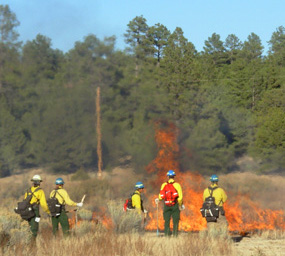 NPS
The Four Winds Fire Program
Five NPS units in New Mexico and Arizona collaborate in this program: El Malpais, El Morro, Petrified Forest, Petroglyph, and Salinas Pueblo Missions. The mission of the Four Winds Group is to safely protect life and property while managing fire as an integral part of the environment and ecosystem.
Four Winds Program NEWS!


Check out the latest fire program activities in El Malpais. Prescribed fire, training, wildland urban interface, it's all here.

NPS Fire Management - go here to check out all the details of fire management in the National Park Service.