Accessibility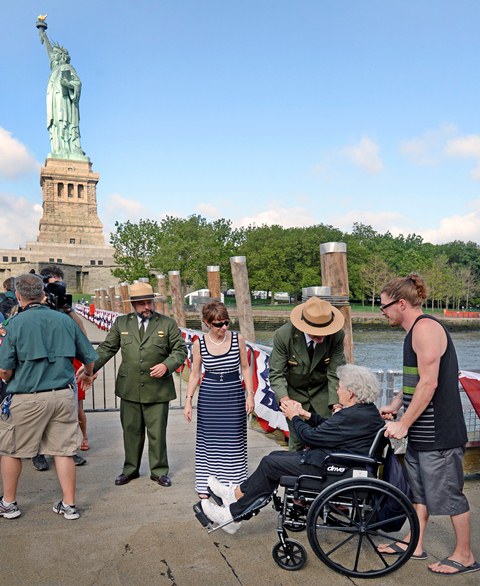 NPS photo by Volunteer-in-Parks Steven Sinski.
The National Park Service welcomes all visitors
The National Park Service wants your visit to be memorable for all the right reasons. Visiting any museum or park can be taxing as well as exciting. Visitors are urged to place health and safety first, both for yourself and your companions. Bring any medication, food, water or equipment that you may need with you. Take the time to enjoy the park safely.
Ferries: Statue Cruises personnel provide assistance on the ferry gangways. Aboard the ferries, enclosed areas are available. Restrooms aboard ferries are not handicapped accessible.
Guide/Assistance Animals at Ellis and Liberty Islands: While regular pets are not allowed on either Ellis or Liberty Islands, or on the ferry boats, guide and assistance animals are welcome. See Accessibility Information for Liberty Island.
Borrowing a wheelchair: A very limited number of wheelchairs can be borrowed for no charge on both Ellis and Liberty Islands on a first-come, first-served basis. Borrowers must deposit a driver's license or similar form of I.D., at the Information Desk/Center, which will be given back when the wheelchair is returned.
Other accessibility services at Ellis Island:
Tactile models of the island are located near the Information Desk.
Large print brochures in English are available upon request at the Information Desk.
Information in Braille about Ellis Island's history may be borrowed at the Information Desk.
The Park Brochure in Braille is available upon request at the Information Desk.
Audio description tours created specifically for blind and visually-impaired visitors are available from our audio-tour concessioner.
Elevators (will not be available on August 11, 2014) are located on both the east and west sides of the main building.
The documentary film "Island of Hope, Island of Tears" is open captioned.
An assisted-listening induction loop device may be borrowed at the Information Desk.
Emergency Medical Services: If you need assistance, contact any National Park Service employee. EMTs are available on both Ellis and Liberty Islands.
For more information and other requests: For information about programs, services, activities and requests regarding accommodations for persons with disabilities: please contact the park, in writing or by e-mail, at least twenty one (21) days in advance of your intended visit. Phone: 212 363-3200. Deaf and hard-of-hearing visitors can also utilize the services of NY/NJ relay at 711.


Did You Know?

From 1910 to 1940, the Angel Island Immigration Station in San Francisco Bay processed approximately 1 million Asian immigrants entering into the US, leading to it sometimes being referred to as "The Ellis Island of the West". Due to the restrictions of the Chinese Exclusion Act of 1882, many immigrants spent years on the island, waiting for entry. Access to the island is by private boat or public ferry from San Francisco, Tiburon or Vallejo. Ferry services are reduced during the winter. More...