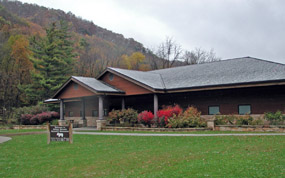 NPS Photo
Begin at the Visitor Center
Access to the Monument's natural and cultural features begins at the visitor center, which is located along the Mississippi River at the base of towering limestone bluffs. A 15-minute film interpreting the story of American Indian moundbuilding cultures, highlighting the "Effigy Mound Culture", is featured in the center's auditorium. Explore temporary exhibits, a children's "please touch" display, a formal museum exhibit displaying ancient Indian artifacts - and an educational bookstore.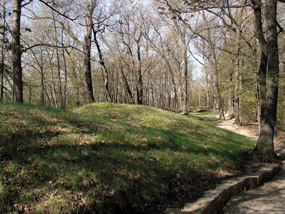 NPS Photo
Walking and Hiking Trails
Touring the Monument involves short walks along accessible trails or extended walks along steep hiking trails. Due to the sacred nature of the site as an American Indian burial and ceremonial ground, there are no automobile tours available.
A Fire Point Trail Guide is available; ranger guided walks and hikes are scheduled throughout the summer and intermittently through the rest of the year.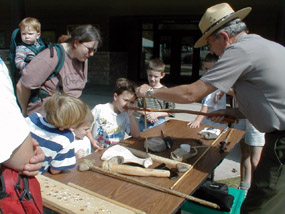 NPS PHOTO
Programs and Activities
A wide variety of ranger conducted activities and special events are offered throughout the year.
Two-mile hikes to Fire Point featuring American Indian mounds are offered daily throughout the summer. Other activities include wetland / riparian walks, tallgrass prairie hikes and ancient American Indian tool and weapon talks - including atlatl demonstrations. Special events include living history "Moonlight Hikes".
Click HERE for a list of events.