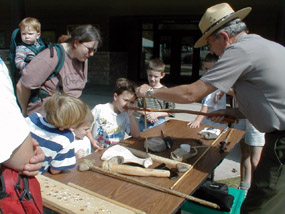 NPS PHOTO
Programs and Activities
A wide variety of ranger conducted activities and special events are offered throughout the year.
Two-mile hikes to Fire Point featuring American Indian mounds are offered daily throughout the summer. Other activities include wetland / riparian walks, tallgrass prairie hikes and ancient American Indian tool and weapon talks - including atlatl demonstrations. Special events include living history "Moonlight Hikes".
Click HERE for a list of events.