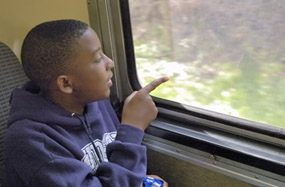 ©TED TOTH
Experience the adventure, romance, and nostalgia of a vintage train ride through the heart of Cuyhoga Valley National Park.
Train Excursions
Cuyahoga Valley Scenic Railroad (CVSR) operates regular excursions and special excursions from Rockside Station in Independence to Akron Northside Station, and from Canton Lincoln Highway Station to Akron Northside Station.
Cuyahoga Valley Scenic Railroad: National Park Scenic Winter Excursions
Saturdays,January 17 through February 28
Take a leisurely roundtrip, or get off in Peninsula to shop and dine then return on a later train. Rockside Station, 9 a.m. and 12:45 p.m. Peninsula Depot,9:40 a.m.,11:30 a.m. and 1:40 p.m.Akron Northside Station,10:45 a.m.Fee: Adult Coach: $18, Child Coach (ages 3-12): $13, Adult First Class: $23, Child First Class (ages 3-12): $18 and includes the Voices of the Valley audio tour.

To purchase tickets, call 800-468-4070 or visit www.CVSR.com.
Saturday, January 17th–OPENING DAY ONLY
Walk up ticket sales at any of our stations –Buy one adult coach ticket, receive one child coach ticket free for any of the National Park Scenic excursions on January 17th only.
Bike Aboard!
Bike the Trail, Ride the Rail!
Bike the Towpath Trail in one direction, then hop on the train for a relaxing ride back to your car-or do it in reverse! The train can be flagged down at boarding stations by waving both arms. Please arrive 10 minutes prior to the train's scheduled arrival. Pay your fare when you board. One way for bicyclists: $3 per person ages 3 and up with bike. One way for runners and hikers: $8 per person ages 3 and up. No guaranteed seats. Bike Aboard! service runs May through October and is offered during regular excursions. Visit www.CVSR.com for schedules.