If you bring your pet to Cuyahoga Valley, please protect your pet, other visitors and park resources by following these guidelines and regulations: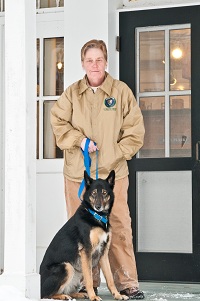 NPS / Ted Toth
---
Guidelines

-Pets must be restrained on a leash that is six feet or shorter in length on all park lands at all times.
-Pets should not be left unattended. Summer sunshine poses a threat to pets in vehicles.
-Human companions are responsible for cleaning up and depositing pet waste in trash receptacles.


Where Pets Are Allowed

-There are over 110 miles of hiking trails and 20 of the Towpath Trail in the park where pets are permitted.
-Pets are permitted in the Stanford Campground



Where Pets Are Not Allowed

-In any park building, with the exception of service dogs
-On the Cuyahoga Valley Scenic Railroad Train



-Keeping pets on trail and on leash will minimize exposure to poison ivy and ticks
-Use extra caution when hiking in icy and snowy conditions with pets
-Carrying extra water is advised, especially during hot months and long trips
-Remember: Restrictions on pets in parks are as much to protect your pet as to protect park resources.
-Service animals may accompany their owner to all park locations.