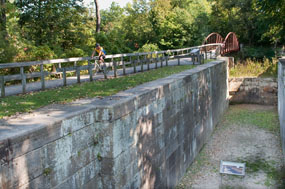 NPS/Tim Fenner
The land that today makes up Cuyahoga Valley National Park (CVNP) has been home to humans for thousands of years. American Indians were the first inhabitants. Different American Indian cultures hunted and built villages in the valley during different periods. By the middle 1700s, Europeans were establishing trading posts in the valley and a few decades later settlers from New England started coming to stay. Those frontier communities eventually became towns, their growth helped along by first the canal, then the railroad, and later interstate highways.
The American Indian villages, pioneer settlements, and canal worker communities are long gone. But each wave of residents left their mark. The artifacts, trails, farms, old mills, and canal remains of the Cuyahoga Valley provide clues to how past peoples lived their lives. Visiting the CVNP's many historical sites is like visiting different time periods in the valley. Thanks to the park, those special places are preserved.
Click to learn more about the history and culture of the Cuyahoga Valley. Also read and hear stories about daily life on some of the valley's historic farms.
---
Let's investigate what life was like in the Cuyahoga Valley during different periods of time.
American Indians—Click here for information about the Paleo Indians, the Hopewell, the Whittlesey and other late-prehistoric tribes, and the historic tribes who lived in the valley.
Western Reserve Pioneers—Click here for information about the New Englanders who settled in Northeast Ohio starting in the late 1700s.
Ohio's Canal Era—Click here for information about 19th century life when the Ohio & Erie Canal was in operation.
Late 19th to Early 20th Century—Click here for information about valley life during the end of the 19th and start of the 20th centuries.