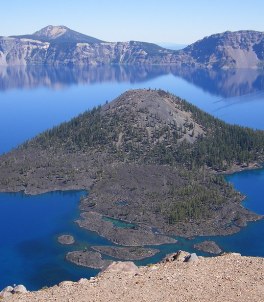 NPS
Getting Started
While there's no "best" way to experience the park - that depends on your interests, time and ambitions - there are different activities, trails and opportunities to enhance your enjoyment and appreciation of this special place.
The park is open year-round but winter access is limited. In the summer, hiking, boat tours, trolley tours, ranger-guided programs, swimming, fishing, ranger talks, evening programs, camping and other activities are offered. Please check park schedules for dates and times.
In the winter ranger-led snowshoe hikes are offered on weekends, usually beginning in late November and running through late April. Please call the information desk at (541) 594-3100 for details and reservations. Cross-country skiing is available on a number of trails and - when the road is closed - along Rim Drive. Snowmobiling is only permitted from the North Entrance (off Highway 138) to North Junction (approx. 10 miles).
Enter the park from the south entrance at Annie Springs (off Highway 62). Stop by the Steel Visitor Center (open year-round), located near park headquarters four miles north of the Annie Springs fee station. Rangers and NHA staff can assist you with your visit and help plan hikes, advice on lodging and camping, where to access the Cleetwood Trail (only trail to the lake surface), the best approach to drive around the lake and optimal spots for photographs. An 18-minute informative video is shown in the auditorium upon request.
Enter the park from the north (off Highway 138 - summer only), ten miles south to North Junction. A left turn leads to Rim Drive around the north side of the lake and caldera. To access West Rim Drive and Rim Village, continue straight at North Junction, proceeding to an intersection six miles south. Turn left to enter Rim Village and access the Rim Cafe/Gift Shop (open year-round), Crater Lake Trolley Tours (summer), the Rim Visitor Center (summer), the Sinnott Memorial Overlook (summer) and the Crater Lake Lodge (summer). Turn right to proceed to the Steel Visitor Center (three miles downhill, on the right), the South Entrance and Highway 62 (seven miles from the Rim).
If you have questions or comments, please call (541) 594-3100. We will be happy to assist you with planning your visit.