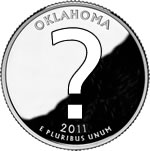 Saturday, 19 September 2009
Hi! Ranger Eric writing today. The summer is now over, and during the month of September the park sends staff to both the State Fair and the Oklahoma Wildlife Expo, so you may see park staff at both those places over the next several weeks.
After a long hiatus, we are picking back up the nature center blog, and plan to keep up with all the things happening here and elsewhere in the park!
Exciting news here in the park a week ago was our selection as the public land location to grace the Oklahoma quarter in the upcoming America the Beautiful quarter program. The coins will be issued in the order each site was established by Congress; since the park's earliest birthday is in 1902, that makes us the tenth quarter in the series of fifty-six. The Chickasaw NRA quarter should be issued in November or December of 2011, just over two years from now.
So, the question of the moment is: How will the park be represented on the quarter? The official design of the quarter will likely not be done for some time, possibly as far out as this time next year. When considering an image for the coin, keep in mind that a quarter does not have space for a lot of detail, so must generally represent the park with one simple image or icon. At Chickasaw National Recreation Area, it all begins with the water.
My own suggestions for the artisans of the U.S. Mint (if they are listening), in no particular order, would be:
Little Niagara. This waterfall and swimming area is one of the icons of the park. Image how the coin might depict water rushing over the travertine formation.
Travertine Creek and/or the Lincoln Bridge. The creek is one of the defining features of the Platt Historic District, and the bridge is an early feature of the park (which turned 100 years old this year).
The Bromide Pavilion. The CCC-built rustic stone pavilion is distinctive in design and one of the best representations of the work done in the park during the 1930s. The mineral waters once dispensed here were in great demand a century ago.
Pavilion Springs. Also built by the CCC, in this pavilion, the spring waters flow out of the center of a large boulder; the water pouring forth might make an excellent visual centerpiece for the coin.
What park related image would you choose?
(top of page)
---