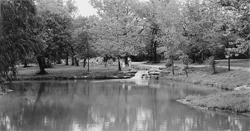 NPS/Chickasaw NRA
Redesigning Flower Park
By the early 1930s, the park's landscape architects noted that Flower Park was "congested" and "the most used area in the park" and had "suffered a great deal of abuse in the past." They designed a plan for the whole area sometime in late 1933 or early 1934. The Flower Park area was intended to serve as a mediating space between the "citified" qualities of Sulphur and the more naturalized landscape of the park.
The overall plan for Flower Park was broken down into a series of smaller projects. Flower Park's old circulation system was redesigned. Work included demolishing old roads and the "rigid and inappropriate" concrete walks running through the park. Constructed in their place was "a network of trails, nearly a mile long, five feet wide, curbed with rough stone, and covered with gravel . . . conveniently connecting all the parts with its three entrances." The paths, ran on graceful, curvilinear alignments, and utilized broad, curving, dry-laid limestone steps to navigate the slopes on the ridge between Travertine Creek and the town to the north.
Another project was the construction of a large parking lot in the northwest corner of the park adjacent to the Vendome Plunge Pool. The parking area was intended to "service Flower Park" and Vendome and was designed to accommodate 130 cars. This parking lot had one unusual feature: Running beneath the parking lot, on the line of the middle island, was a "siphon" or pipe for the Vendome stream, which then bubbled up on the opposite side of the parking area.
The Vendome stream, previously a ditch, was redesigned to create the most distinctive attraction of the area, an "artificial creek" with two wading pools located along its length. The stream was given a new, more meandering course through the park and emptied into Travertine Creek. A series of five small waterfalls were constructed down the length of the stream, and their varied forms seem to have been engineered to present different effects of sound and movement, thereby enticing visitor interaction with the water. The largest of the dams was a low waterfall bubbling into the lower pool, the large stones on its sides placed to provide seats next to the rushing water. Playful footbridges were also designed to cross the stream, and included a low water crossing and a log bridge just above Vendome Falls.
Finish work in the park included fine grading, sodding with Bermuda grass, and planting trees and shrubs. Ten quarts of wild flower seeds, all collected in the park, were scattered in the Flower Park Area. The wildflowers were intended to connect the redesigned landscape to its earlier form as Flower Park.