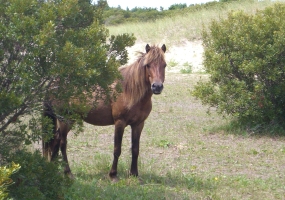 Cape Lookout National Seashore
How can I find horses on Shackleford Banks?
The 110 – 130 animals range over the entire island (Shackleford Banks). Sometimes they are easy to locate and other times it is necessary to walk to find them. While it is possible to drive on the beach or sand roads on other islands in the park, this is not true on Shackleford.
The horses may be found alone, but mostly roam in small groups called harems (stallion, his mares and their offspring) or bachelor bands (males of varying ages). Sometimes they graze alone. They have home ranges that extend the width of the island and overlap others' home ranges at essential resources like water and good grazing.
May I bring my dog?
Dogs are welcome on Shackleford when held by a six foot leash. This regulation is for the protection of the dog as well as the protection of the wildlife: dogs can harm horses (and birds) and horses can hurt or kill dogs. In addition to hurting the wildlife, violators can be fined as much as $5000 and spend up to 6 months in jail.
How close can I get to the horses?
They may look placid, and they see visitors often so they don't usually run away, so, it is tempting to try to touch them, or to get closer for a photo. But, they are easily startled and can (and do) charge, whirl, and kick in a heartbeat. Mares will defend their foals and stallions will defend their mares. They can seriously injure or kill people or dogs with their hooves and teeth.
Watch from a distance, using binoculars and/or the zoom on your camera, to avoid interfering with the horses' grazing, drinking, and resting time.
Do not try to approach a wild horse.
More horse watching tips can be found in the newspaper articles on the Wild Horses page.