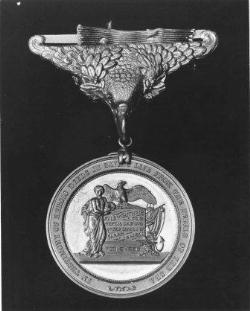 The Rescue
The surfmen returned to the wreck at dawn, but Keeper Gaskill made the decision to wait for the tide to turn, when he expected conditions to improve, before attempting the rescue. Around one in the afternoon, the wind and sea calmed enough so the surfmen were able to reach the schooner.
A heaving line was cast to the schooner and, one by one, the shipwrecked crew members tied the line to their waists and were pulled onboard the Surfboat. The surfmen used their own coats to warm the rescued men. They reached the Life-Saving Station at about 5:00 pm.
The crew of the Cape Lookout Life-Saving Station had spent more than 24 hours in their boat--with no food or water, in the middle of a storm, and exposed to the elements with most of the surfmen sick with the flu. But, they were able to rescue every sailor left on board.
Keeper William H. Gaskill and Surfmen Kilby Guthrie, Walter M. Yeomans, Tyre Moore, John A. Guthrie, James W. Fulcher, John E. Kirkman, Calupt T. Jarvis, and Joseph L. Lewis were awarded the Gold Life-Saving metal "for heroic daring" in the rescue of the crew of the Sarah D.J. Rawson.