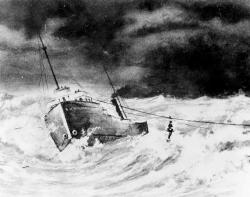 Rescue Equipment
Surfmen had three basic methods of rescuing shipwreck victims: the surfboat, the breeches buoy, and the life car. The surfboat is possibly the most well-known method of rescue. The crew would row this small boat to the site of the wreck and load victims on the rescue boat to be taken to safety. The breeches buoy was, essentially, a pair of shorts sewn into a life preserver. Lines were sent out to the ship and victims were pulled back to shore while sitting in the breeches buoy. The life car employed a similar method: a line was sent out and individuals got inside the small metal tube, closed the hatch, and were pulled to the shore.
The Keeper of the station would select the method he felt would be best for each particular rescue. If that method failed several times, he would select another. If that method also failed, the crew would attempt the third. Only if all three methods failed could the Keeper declare that a rescue was impossible.
This requirement is, in part, why the unofficial motto of the U.S. Life-Saving Service was, "You have to go out; you don't have to come back."
In cases where the rescuers demonstrated extraordinary effort or extreme and heroic daring, the surfmen could be awarded a Silver or Gold Lifesaving Medal, respectively. The rescue of the Sarah D.J. Rawson by the surfmen of the Cape Lookout Station merited such an award.