A Magical Landscape
North of the Arctic Circle, the monument forms 70 miles of shoreline on the Chukchi Sea.  More than 114 beach ridges provide evidence of human use for 5,000 years.  The Inupiat continue to use the area today.  Vast wetlands provide habitat for shorebirds from as far away as South America.  Hikers and boaters can see carpets of wildflowers among shrubs containing wisps of qiviut from muskoxen.
Read More
Features
Running Herd Blog

"Running Herd…on Fieldwork in the Western Arctic National Parklands" highlights some of the work being done by scientists and rangers in the parks.

Read More

What is Qiviut?

In summer, the cold-adapted musk ox sheds a soft undercoat called "qiviut" in Inupiaq. The park is home to many animals well suited for arctic life.

Read More

Kids and Cape K

Local kids and visitors can collect cool awards by attending a Junior Ranger program each week during summer. Kids far away can be Jr. Rangers too!

Read More
Did You Know?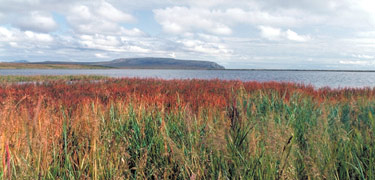 In 1980, with the passage of ANILCA (Alaska National Interest Lands Conservation Act), much of the traditional homeland of the Inupiat Eskimos of Northwest Alaska became national parks, preserves, monuments, and wildlife refuges.